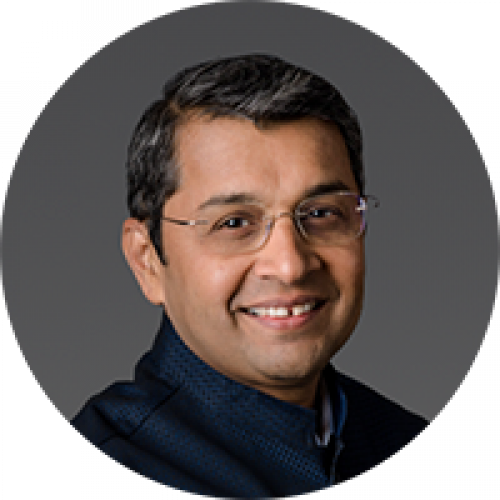 Sameer Bendre
Chief of Operations, Persistent Systems Ltd
Trustee
Sameer Bendre is a member of the Board of Trustees of Persistent Foundation.
Sameer is Chief of Operations for Persistent, responsible for Persistent's Environmental, Social and Governance (ESG) initiatives and Risk Management, both of which are core to our strategy and values. He is also responsible for the Enterprise Information Systems (EIS), Administration and Internal Audit functions.
Sameer Bendre is a deeply passionate business leader with over three decades of overall industry experience in technology, finance, business operations, talent management and people development. Sameer is a Persistent veteran having joined the Company in 2004, and later took over the role as Chief People Officer, where he led the transformation of HR into a strategic function. Sameer was also responsible for establishing Persistent's Nagpur and Hyderabad Centers and was the Head of Operations for the Nagpur Center.
Prior to Persistent, Sameer was CEO of his own company, Nagpur Motors Pvt. Ltd. manufacturing electric motors. As an active member of the entrepreneurship and social community, Sameer was responsible for hosting the TiECon in Nagpur for five consecutive years and was co-founder of the TiE Nagpur Chapter. Sameer is actively involved in various organizations like Rotary International, Vidarbha Association of Software Exporters (VASE), CII and NASSCOM at Nagpur and is often invited to speak on entrepreneurship, workforce management and business leadership.
Sameer holds a bachelor's degree in Electronics Engineering from Nagpur University. He has attended executive management programs at IIM Ahmedabad, Indian School of Business and is a certified ISO lead auditor.
Sameer is widely admired as a people person bringing to life a human centric corporate culture. Sameer is an avid reader, a cricket enthusiast, and a movie buff. He likes to keep himself fit by walking and cycling.
Get engaged
A little bit by each of us can lead to a better tomorrow
As a trusted channel, we maintain transparency and accountability for all donations received. We welcome contributions from everyone.
Don't wait for the perfect moment to become a changemaker — make this moment perfect! Volunteer with the Persistent Foundation.