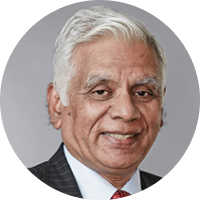 Mr. Pradeep Bhargava
Independent Director, Persistent Systems Ltd
Trustee
Mr. Pradeep Bhargava is Director of Cummins India Limited. Mr. Bhargava was working as the Managing Director of Cummins Generator Technologies India Limited from May 2003 till April 2012. He has steered the growth of the Organization, made it a Market Leader and a major Global player. Mr. Bhargava's association with Cummins started way back in 2000, where he was first responsible for steering growth and transforming a leading Engine business into a wholesome Energy Solutions Enterprise.
A veteran in the Industry, Mr. Bhargava has held responsible positions in both Private and Public sector organizations. His tenure with the State Sector spanned a decade, during which he worked with Indian Space Research Organization, Atomic Energy Commission, Electronics Commission, Bharat Heavy Electrical India (BHEL). He also had tenure of 1 year and 6 months with UNDP and World Bank, respectively, during his working with the Government. In the Private Sector, he has held various positions at the Kalyani Group, first helping them diversify and thereafter spearheading the Group's entry into Consumer Electronics (Kalyani Sharp India). He then helped steer the foray of the Group into Infrastructure sector. He was the CEO of the Lighting Business of General Electric, Bangalore prior to joining Cummins.
Mr. Bhargava has been actively participating in Industry Forums, Education Institutions as well as various platforms of Civic Society. His primary focus has been to integrate the experience and knowledge of Industry into cause which benefit both the Society and the Environment.
Within CII, he was the Chairman of Pune Zonal Council during the year 2004-05, thereafter Chairman of Maharashtra State Council during the year 2008-09. He was the Chairman of Western Region Council for the year 2012-13. His key contributions have been Conceiving, Steering and Implementing the now famous "Pune Model" by virtue of which the city of Pune has been able to mitigate Load Shedding for the last 5 years. Likewise, he had a significant role to play in establishing Finishing School with Symbiosis as part of Affirmative Action. Both these initiatives have since been scaled up and replicated in other communities. He has considerable engagement in Skill Development Charter and establishing links between Educational Institutions and Industry.
Mr. Bhargava was the member of Executive Member of National Assessment and Accreditation Council (NAAC), as Autonomous institution of the University Grant Commission for three years. He is involved with education institutions such as TMTC, YASHADA, IIM Ahmedabad, IIM Bengaluru as a guest faculty. The engagement with Symbiosis is long and involved – member of the Planning Cell as well as the Board of Management of Symbiosis University. Mr. Bhargava has been on the Executive Council of Maharashtra Chamber of Commerce, Industries and Agriculture (MCCIA) for the last 4 years.
He earned his Bachelor of Science (Honours) from Rajasthan University, Jaipur and earned Bachelor of Engineering in Electronics and Communications from Indian Institute of Science, Bengaluru. He further earned Master in Business Administration from Indian Institute of Management, Ahmedabad.
Get engaged
A little bit by each of us can lead to a better tomorrow
As a trusted channel, we maintain transparency and accountability for all donations received. We welcome contributions from everyone.
Don't wait for the perfect moment to become a changemaker — make this moment perfect! Volunteer with the Persistent Foundation.