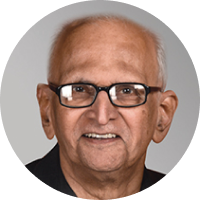 P. B. Kulkarni
Persistent Foundation
Founder Trustee
P. B. Kulkarni is a member of the Board of Trustees since the formation of Persistent Foundation.
He earned Bachelors Degrees in Commerce and Arts in 1955 and 1956, respectively, and a Post Graduate Degree in Commerce from Pune University in 1957. He is also a Certified Associate of the Indian Institute of Bankers and is a fellow of the Economic Development Institute of the World Bank, Washington D.C.
He worked with the Reserve Bank of India from the period 1957 to 1993 in various positions including as executive director. During this time he served on deputation with the Asian Development Bank, Manila from 1967 to 1970 as operations officer, the Bangladesh Shilpa Bank intermittently for the period 1974 to 1977 as a consultant, the Myanmar Economic Bank, Yangon from 1978 to 1979 as chief of mission. He was the chairman and managing director of the Bank of Maharashtra from 1993 to 1995. He has also served as a chairman of the local advisory board for the Bank of Bahrain & Kuwait, B.S.C from 1997 to 2005. He has been a director on the boards of the Punjab and Sind Bank, Bank of India and Central Bank of India and was an alternate director on the Board of Asian Clearing Union. He has over fifty years of experience in the fields of banking and finance.
He has served as a chairman of the finance sector sub-committee of the MCCIA from 1996 to 2003 and is a past member of the editorial board of the journal of the National Institute of Bank Management. He has been a member of Planning and Monitoring Board, Gokhale Institute of Politics and Economics and was a Chairman of the committee to monitor code of ethics of the Indian Banks Association. He is a member of the Centre for Advanced Strategic Studies, Pune, the English Speaking Union, Pune and the Vision Committee of Pune University. He is the Chief Trustee of the Suparn Charitable Trust and serves on Arbitration Committee of the MCCIA and serves on the Grievance Committee of Pune Stock Exchange.
Get engaged
A little bit by each of us can lead to a better tomorrow
As a trusted channel, we maintain transparency and accountability for all donations received. We welcome contributions from everyone.
Don't wait for the perfect moment to become a changemaker — make this moment perfect! Volunteer with the Persistent Foundation.