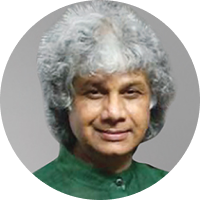 Dilip Kale
Persistent Foundation
Trustee
Dilip Kale is a performing instrumentalist and plays the santoor. He is a senior disciple of the great legendary musician, Pandit Shiv Kumar Sharma. Dilip has given several solo and jugalbandi performances in various music festivals in India and abroad. He is one of the very few musicians to have mastered the chromatic style of rendering the santoor, which enables him to play for films. He is also honored to have co-performanced with his Guruji in a few music festivals. Some of Dilip's memorable solo performances include Teen Prahar music festival organized by Banyan Tree Events at Nehru centre, Mumbai; Sankatmochan Music Festival, Banaras; Gurubhakti festival at Sharda Sangeet Sabha, Mumbai, Gunijan Baithak at Mumbai and Nagpur organized by Pancham Nishad; Silsila Santoor Ka organized by HMV-SaReGaMa at Pune; Sanskar Bharati, Pune; Pune Festival, Pune; Pune Music Society, Pune; DITI Festival, Singapore etc.
Mr. Dilip Kale also brings with him experience of management of Public Charitable Trusts (PCTs) for over 25 years. He was associated with Maharashtra Executor & Trustee Company, a subsidiary of the Bank of Maharashtra, a nationalized bank. He has managed over 350 PCTs with varied objectives. One of the unique distinctions of Mr. Kale lies in providing professional services with customized solutions. He made sure that the funds for social cause are used for the right purpose and reach the people in need. His dedicated services resulted in designing several unique, purposeful programs, protecting interests of the givers and takers. He has been successful in setting very high standards for the management of PCTs yet maintaining a humanitarian approach based on social justice while achieving a balance in protecting interests of all the stake holders. He has advised companies to design innovative programs under Corporate Social responsibility (CSR) domain.
Get engaged
A little bit by each of us can lead to a better tomorrow
As a trusted channel, we maintain transparency and accountability for all donations received. We welcome contributions from everyone.
Don't wait for the perfect moment to become a changemaker — make this moment perfect! Volunteer with the Persistent Foundation.