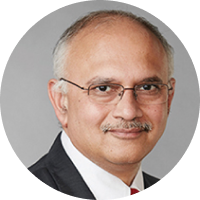 Dr. Anand Deshpande
Chairman and Managing Director, Persistent Systems Ltd
Founder Trustee
Anand Deshpande is the Founder, Chairman, and Managing Director of Persistent Systems. He is responsible for the overall leadership, strategy, and management of the company. A true technology visionary, Anand's strengths lie in identifying and investing in next-generation technologies early on and encouraging internal entrepreneurship to ensure that Persistent stays at the forefront of technology innovation. Anand has been the driving force in growing Persistent from start-up to the publically-traded global company of today.
Anand has been recognized for his technology and business leadership as well as his contributions to public welfare. His recent awards include the CSI Fellowship Award for outstanding achievement in the field of Information Technology, the Career Achievement Award from the School of Informatics at Indiana University, Bloomington and the IIT Kharagpur Distinguished Alumnus Award.
Active in various professional and charitable organizations, Anand has served as a member of the Executive Committee of NASSCOM Executive Council, and has served as President of ACM (Association for Computing Machinery) India, President of SEAP (Software Exporters' Association of Pune), and Chairman of the Pune Chapter of CSI (Computer Society of India). He currently serves on the Board of Trustees of the Computer History Museum in Mountain View, California, the Dean's Advisory Council of the School of Informatics of Indiana University and the Executive Committee of MCCIA (Maratha Chamber of Commerce Industries & Agriculture). Anand is currently co-chairing the VLDB 2016 (Very Large Data Bases) conference. With the vision of creating a vibrant entrepreneurial ecosystem in India, he is the founding member of iSPIRT, India's first product think tank.
Prior to founding Persistent Systems in 1990, Anand began his career at Hewlett-Packard Laboratories in Palo Alto, California. Anand holds a B. Tech (Hons.) in Computer Science & Engineering from IIT Kharagpur, and a Master's degree and Ph.D. in Computer Science from Indiana University, Bloomington, Indiana. Anand is an avid reader who enjoys non-fiction, especially all things science and technology.
Get engaged
A little bit by each of us can lead to a better tomorrow
As a trusted channel, we maintain transparency and accountability for all donations received. We welcome contributions from everyone.
Don't wait for the perfect moment to become a changemaker — make this moment perfect! Volunteer with the Persistent Foundation.